Updated Tuesday, March 24, 2020. Returning back to drive thru services for sack lunches. During this school closure it is important for us to re-evaluate procedures. Therefore, we will be going back to a sack lunch pick up starting TOMORROW, March 25. Please note.....Tiospa Zina Tribal School is providing sack lunches starting, Wednesday, March 25, 2020 from 11:00 a.m- 1:00 p.m. Lunches will be handed out on Monday, Wednesday and Friday. These lunches will be able to be picked up and taken home to eat. Please send only healthy family members of your family to pick up. Lunches may be picked up at the back doors of TZTS. This is open to all kiddos ages 1-18 not just TZTS kids. Please contact Superintendent, Gabe Kampeska for any questions. His cell number is (605) 268-3133

TZTS K-12 students if you did not get a chance to pick up your learning packet today you may pick it up on Monday, March 23, 2020 between 11:00 a.m.-1:00 p.m. 💙 We had 220 out of 254 elementary students pick up today, 82 out of 120 students in the middle school and 79 out of 144 in the high school. A total of 380 student packets were picked up. It was so nice to see our families even for a few minutes today.

Tiospa Zina will be making a change with how meals are distributed. Starting Monday, March 23, 2020 our bus drivers and bus monitors will deliver to individual homes of students that ride the bus. For those students that do not ride the bus and would like a meal dropped off you must call or text Mindy Crawford at 268-0233 or message on Facebook, your child's name and address so that your child can be added to the list. This information will be shared with Trish Crawford our Food Service Director. Meals will be delivered on Monday, Wednesday and Friday of each week. Meal bags will contain items for two breakfasts and two lunches. Lunches will be delivered between 11:00 a.m.-2:00 p.m. each day. We will no longer have the drive up lunch pick up at TZTS as stated in letter that was sent home. We continue to makes changes to ensure that all of our kids needs are met and health and safety of all staff and families. Please be patient and understanding during this transition time of feeding and educating our children from home. 💙

Tiospa Zina Tribal School will be closed through April 3, 2020. Teachers are working on developing learning packets that can be picked up in the TZTS lobby on Friday, March 20th 2020 from 11:00 a.m.- 2:00 p.m.

The staff here at TZ is coming up with a plan this morning and will share it with the community through Facebook and the website this afternoon.



TZTS will have a 10:00 a.m. start on Monday, December 2, 2019.

Just a reminder TZTS will be dismiss at 1:00 p.m. on Friday, November 22, 2019 for teacher in-service.

Awesome Dakota Women

Tomorrow (Thursday) is picture re-take day! 😊

Rock It Week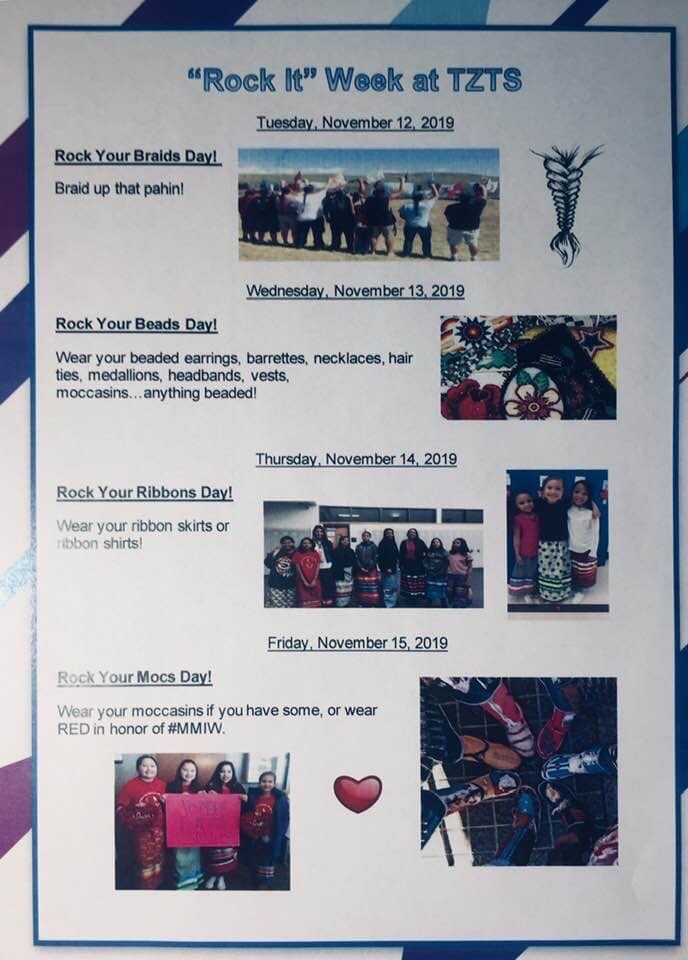 Reminder Juniors are touring SDSU Monday in Brookings. Please dress warmly. Seniors can join too! Bus leaves at 8:30.

Halloween Carnival and Wacipi tonight! Light supper: Pulled Pork, Beans and chips 4:30-6:30 p.m Wacipi: 6:30-IDK 🤣

Parent Teacher Conferences will be held Thursday, October 24, 2019 from 3:30-6:00 p.m. and Friday, October 25, 2019 from 1:15-3:00. Stop up and visit with your child's teacher.

Just a reminder...No School tomorrow. 💙

No School today for TZTS. ❤️

Parents Night for Football Players and Cheerleaders will be held at TZ Football Field on Thurs, Oct 3 at 6:30pm before the game with FIS. All parents please be at the football field no later than 6:20pm to line up for introductions. Meal will be held in cafeteria following game.


There will be no school on September 27th as a significant number of students and staff will be at the LNI tournament in Rapid City. We will, however, be having school on October 11th to compensate.