TZTS will have a 10:00 a.m. start on Tuesday, January 17, 2023 , due to icy road conditions.

TZTS does have school on Monday, January 16, 2023.

The Tiospa Zina @ Webster Area Doubleheader scheduled for Thursday December 22 2022, has been moved to (tomorrow) December 20, 2022 with a Girls JV start at 4:00 with rolling schedule (GirlJV, BoysJV, GirlsVars, BoysVars) - Due to the forecasted below zero temp and wind chill watch - Go Wambdi….

Friday November 18, 2022: The Jr high girls basketball game vs Webster has been postponed to a later date (schedule conflict) , the girls will practice after school today

10:00 a.m. start on Friday 11/17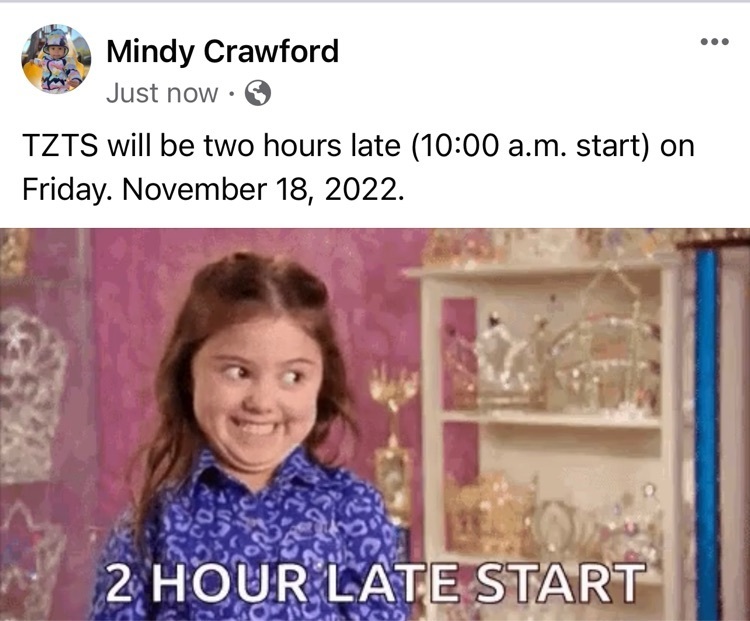 Due to current road conditions and predicted road conditions in the morning TZTS will have a 10:00 a.m. start on Wednesday, November 16, 2022.

ROCK YOUR CULTURE WEEK November 15th-18th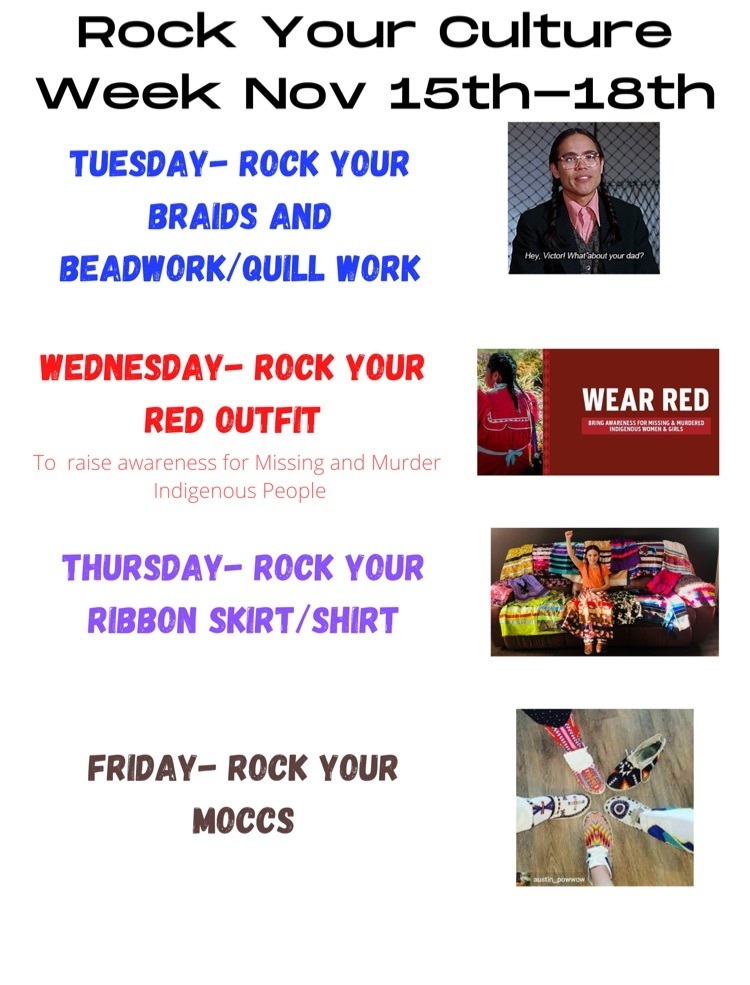 Hi Mindy, would you post this to the TZ fb page? Digital School Photos: Directions for getting your digital image as part of the basic photo package: 1. create a Lifetouch Account and Shutterfly Account. 2. Chat with customer service from Lifetouch. 3. Give them your Portrait ID from picture envelope and say that the digital image comes with the basic package that Tiospa Zina bought. 4. They'll send your digital image over to your Shutterfly account. It can be downloaded from there.

No School for TZTS on Thursday, November 10, 2022 due to the winter weather advisory.

Todays JrHighGBB @ Britton/Hecla will be 1 game starting at 4:00PM Wednesday's game with Enemy Swim has been moved to Nov.30th

Tuesday November 1st, 2022 Region 1A Volleyball in Redfield - Admission Price: $6 Adult, $4 Student 6:00 Match 3 Redfield vs Sisseton 7:30 (or 15 min after match 3) Match 4 Milbank vs Tiospa Zina Liveticket.tv will stream the matches in Redfield. FYI - the Redfield/Sisseton match will have commentary, the Milbank/Tiospa Zina match may not.
https://redfield.liveticket.tv/volleyball/

We have water! See everyone at school tomorrow!! Woohoo!!

No School on Thursday, October 27, 2022 for TZTS. We are still experiencing water issues. We are crossing our fingers it's resolved tomorrow.

🏐 Regions 1st Round - Tuesday November 1st, 2022 @ Redfield, SD Match 3: Redfield vs Sisseton 6:00 Match 4: Milbank vs Tiospa Zina 7:30 or 15 min following match 3

No School Tomorrow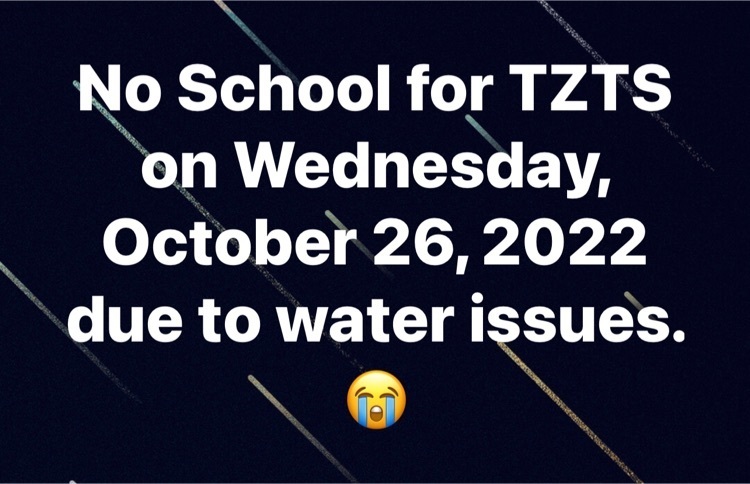 1st round playoff football game is still on, 4:00 p.m. kickoff! TZTS vs. Flandreau Indian School. 🏈💙

No School today, Tuesday, October 25, 2022, we are experiencing water issues.

Congratulations CeeJay Bissonette on making it to state for TZTS Cross Country! We all wish you the best of luck tomorrow in Huron! We are so proud of you!! 🎉🎉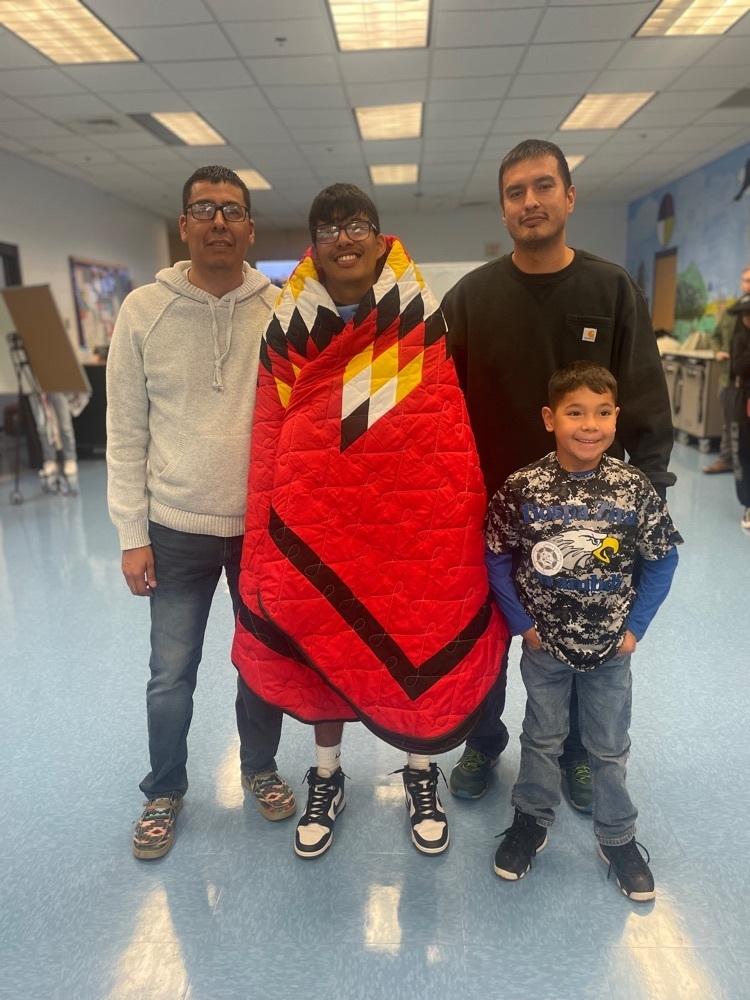 TZTS football will host McLaughlin at home, on Saturday, October 15, 2022 at 2:00 p.m. Seniors/Parents will be recognized at 1:30 p.m. See you there!