TZTS Volleyball will host Milbank on Thursday, October 13, 2022. 7th grade 3:15 8th grade 4:00 C-Team 5:00 J.V. 6:15 Varsity following J.V.

TZTS Kindergarten Classes will be going to Sica Hollow at 12:00 p.m. and return by 2:45. 🍁

The TZTS vs. Flandreau Indian School Volleyball Game will be held on, Monday, October 10 at Flandreau. The JV match will start at 1:30. (It was originally scheduled for October 11.)

The Jr High Football Game in Rosholt will start at 4:30 today! Dress warm. 💙

Change in calendar: Tiospa Zina will dismiss at 12:35 p.m. on Friday, October 7, 2022.

Activity busses will not be running until further notice.

9-12 Students Football Practice starts Aug 10th at 9am Volleyball Practice starts Aug 11th at 1pm Cross Country Practice starts Aug 11th at 10am

Kunsi Edwina ❤️ here since 1985.

There will be No School for TZTS on Thursday, May 6, 2022 due to the passing of Kunsi Phyllis our long time school nurse and Dakota language teacher. ❤️

Track meet tomorrow the 26th, leaving school 9:30am to Groton. Track meet starts at 11am.

TZ Boys basketball team will play in Clark at 7pm on Friday March 4th. Game will be livestreamed on Youtube by Tom Wilson and Clark Willow Lake HS.

Game tomorrow, 6pm at Clark against Redfield.

Congratulations to the Tiospa Zina Football Team and Coaches Mike Peters, Wambdi Cook, Gabe Akipa, and Osceola Blue Horse Sr on winning the All Nations Football Championship!!! Thank you to the Cheerleaders and Advisor Sandra Pratt for all the support you provided. Very proud moment for our Football Program, School, and Community!!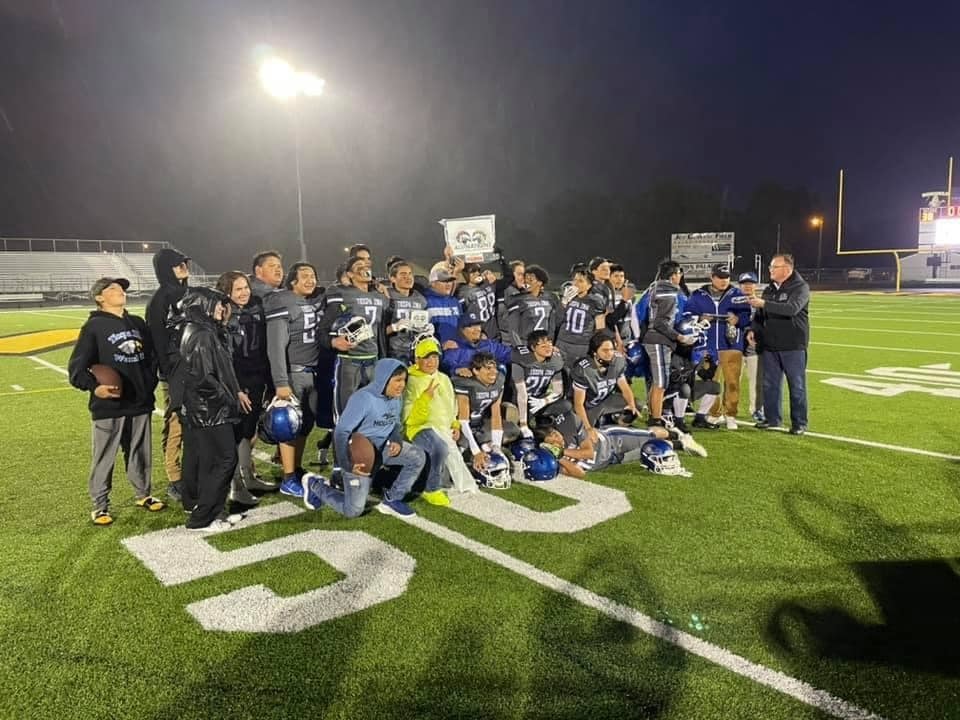 Tiospa Zina Tribal School has moved their start date to September 14, 2020. This move is to ensure that all students have WiFi in their homes prior to school starting. SWO and The Tribal Education Department are working hard to get WiFi installed in homes who do not have it. We will be providing more information to our families as we continue to finalize which students are in Group A and Group B, along with other important "Safe School Start 2020" information. Please check your mail, visit our Facebook page and/or website for more information. As always you may contact the school to answer any questions you may have. 💙


Tiospa Zina's Graduation will be held June 20th at the football field at 12pm. Each student will be allowed 10 family members to be with them on the field and distancing will be required between families. All other family members, friends, staff, etc. will be required to be in the parking lot. We look forward to celebrating this year's seniors!!!

Learning Packets for all K-12 students will be disbursed on Monday, April 6, 2020. Middle/School and High School packets will be mailed. If your child is a middle school or high school art student their packet will be delivered as art supplies are being included in their packet. K-5 packets will be delivered. Staff will be using health precautions when delivering. We will knock and put the packet in-between the screen door and inside door. All previous packets need to be kept by each family as we are still working at a safe plan for handling all returned packets. Please be patient with us as a school, yourselves and children as we all adjust to a different learning and home environment. ❤️ We are here to answer any questions. Our numbers are below. HS Principal Mabel Picotte (605) 268-0421 MS Principal Jasmin A Zetina (605) 880-5141 K-5 Principal Mindy Crawford (605) 268-023 K-5 Special Education Director Kara German (605) 268-0194 MS/HS Special Education Director Heather Bainbridge (701) 640-3754

Just a reminder please notice the change towards the end...❤️. Updated Tuesday, March 24, 2020 @ 9:45 p.m. Returning back to drive thru services for sack lunches. During this school closure it is important for us to re-evaluate procedures. Therefore, we will be going back to a sack lunch pick up starting TOMORROW, March 25. Please note.....Tiospa Zina Tribal School is providing sack lunches starting, Wednesday, March 25, 2020 from 11:00 a.m- 1:00 p.m. Lunches will be handed out on Monday, Wednesday and Friday. These lunches will be able to be picked up and taken home to eat. Please send only healthy family members of your family to pick up. Lunches may be picked up at the back doors of TZTS. This is open to all kiddos ages 1-18 not just TZTS kids. Due to state requirements children ages 1-18 must be in the vehicle when lunches are picked up. However, TZTS will be flexible with this requirement and understands all concerns with having to bring your children out to pick up lunches. Please contact Superintendent, Gabe Kampeska for any questions. His cell number is (605) 268-3133.

Updated Tuesday, March 24, 2020. Returning back to drive thru services for sack lunches. During this school closure it is important for us to re-evaluate procedures. Therefore, we will be going back to a sack lunch pick up starting TOMORROW, March 25. Please note.....Tiospa Zina Tribal School is providing sack lunches starting, Wednesday, March 25, 2020 from 11:00 a.m- 1:00 p.m. Lunches will be handed out on Monday, Wednesday and Friday. These lunches will be able to be picked up and taken home to eat. Please send only healthy family members of your family to pick up. Lunches may be picked up at the back doors of TZTS. This is open to all kiddos ages 1-18 not just TZTS kids. Please contact Superintendent, Gabe Kampeska for any questions. His cell number is (605) 268-3133